2020, a year like no other. Yet one where Ladies Gaelic football in Glenavy made a lot of progress both on and off the field of play. We had ladies only teams Under 8, Under 10 and Under 12 for the first time, entering into the South West Antrim GoGames competitions, as well as our well established Under 16 and Senior teams playing in All County leagues and championships.
A "Girls' Football Academy" was created with the younger age groups with a view to increase and sustain player participation. Acknowledgement must go to Brian Rice for making the idea reality and it is safe to say that to date it has been a resounding success. Even with the stop – start nature of this year and the problems that arose due to Covid restrictions, the ladies and coaches gave their all and were positive throughout.
Our senior ladies also put their collective shoulder to the wheel, raising money for the Glenavy-Crumlin Covid Response and keeping fit during lockdown in order to be ready for the season restarting. Indeed, before play was halted again in October they were top of Division Two and unfortunately had been beaten in the Junior Championship Final. They remain excellent role models for our younger players, giving freely of their time to help coach and referee some under 12 games. This relationship between all groups is something we hope to continue to foster in 2021.
The reports and pictures below will give a broad overview of how each team progressed. Well done to every single one of our players. You are a credit to our Club, your family and yourselves. Thank you to all our coaches for the hours upon hours of organising and coaching that you do for all of our ladies teams. Thanks also to Barry Hotchkiss as our LGFA referee. Without those willing to pick up a whistle we wouldn't have our games to play. Fingers crossed it won't be long before we can cross the white line again and enjoy the sport we love.
Under 8 and 10 Girls' Academy
Despite this fractured season, the Girls' Football Academy continued to grow in strength. Our numbers remained strong right through to October which shows great dedication from the girls and of course their parents!
In this disrupted and difficult season we only managed to complete one fixture; against St. Comgall's, in which our girls were highly competitive. The coaches could clearly see Glenavy were the stronger team across the pitch. It gave us great pride to see the girls' hard work in training on show when it mattered and they all seemed to enjoy the match.
The team certainly developed as the season progressed with all players improving their basic key skills of Gaelic and also developing an awareness of the various roles in a match setting.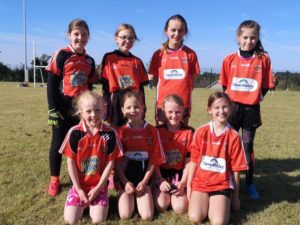 The girls grew in confidence as well as ability and a desire to get on the ball and get involved was witnessed. In a shortened season of a few months, incredible progress was made by all the girls. Perhaps most pleasing was the smiles on their faces as having fun is vital at this age to encourage everyone to return.
We hope everyone keeps practising over the winter and can't wait to get started again in the Spring!
Under 12
This year history was made as St. Joseph's fielded our first competitive Under 12 Ladies' team. With a mix of girls progressing from the Girls' Football Academy and some trying Gaelic football for the first time, we had healthy numbers from the start. Following lifting of the Covid restrictions, the team had little time to prepare for the calendar of fixtures arranged. Beginning with some very tough games against established teams, the girls soon got to grips with the competitive challenges encountered. Narrow losses in the first two games then a draw, before victories soon became the norm.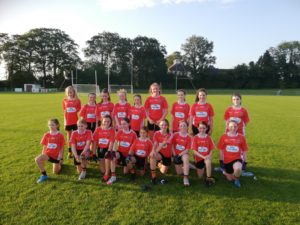 Then Covid once again halted preceding with two home games still to play. The collective progress made, the camaraderie, the fun and the individual improvement in all the girls has been so pleasing to see. A big thank you to all who have helped support throughout this year, coaches and parents alike. Hope the girls are looking forward to 2021 as much as we are.
Finally, special thanks to our new kit sponsors, Fane Valley for all your support. 
Under 16
Despite the disruption caused by Covid-19, the 2020 season has proven to be an important year for the Under 16 girls in terms of their cohesion as a group and overall development. 
The previous year had seen players from three clubs – St Joseph's Glenavy, St Patrick's Lisburn and Colin Gaels – come together as Clann na nGael. This arrangement was severely disrupted by the Covid-19 situation and, as such, the squad was depleted to around 13 or 14 girls. Despite this the girls demonstrated great commitment and determination once training resumed in July. Their hard work and effort really paid off and, despite being pitted in a strong league, they managed to secure three excellent victories – often playing with even less players as efforts eventually took their toll!
Players' Players of the Year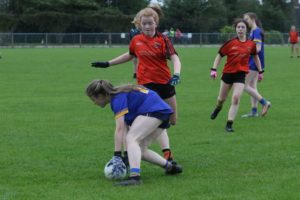 Congratulations to Ana Mulholland and Aideen McCambridge on their joint award as voted for by the peers. Two absolutely fantastic players who back up their ability with a positive attitude and dedication to their teammates and coaches. They have a very bright future ahead of them. Well done! 
Overall, the coaches involved, Sean, Dermy and Cathal, certainly could not have asked for more and were incredibly proud of how the girls responded to the challenges faced and developed as a stronger team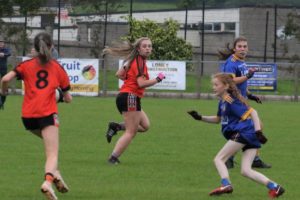 unit. They are looking forward to see this progress continue as soon as possible! Thanks again to all our coaches for their efforts and dedication. Special note of thanks to our parents, whose support this year has been more valuable than ever.
Senior 
We had a panel of 22 players this year and our preseason started as normal at the end of January, however no one at that time was aware of what 2020 would entail.
In order to pass the time during lockdown the team took to the roads and raised money for Glenavy & Crumlin Covid Fund by running & walking twice the length of Ireland in a week. When social distancing allowed it, there were also outings to football golf and Let's go Hydro. Team morale was high and camaraderie was strong, which definitely helped once the season was able to get under way.
League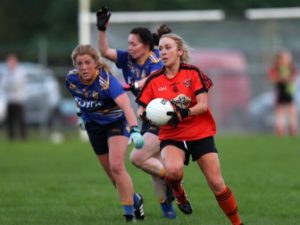 It was always unlikely that a full league programme would be completed, but the team performed well in the matches that took place. The first match was a one-sided affair where we beat Glenariffe. We then had two very competitive matches against Moneyglass and St. Brigid's. The teams were very evenly matched in these matches, but we eventually dug out two wins after being behind near the end in both matches.
After another good win against Rossa we were disappointed to lose our last match against Lamh Dhearg to a last-minute goal. When the league was suspended in September we were well positioned to be in contention for league honours during the closing matches.
Championship
The Championship was restructured this year, which saw all teams move down a tier from where they played last year. As a result, we played in the Junior Championship.
In the preliminary round we had a strong win against St. Brigid's B. This was followed by a good win against Moneyglass B in the quarter final where yet again we had to come from behind in the dying minutes to win the match. In the semi-final we were up against a very strong Division 1 St. Paul's B team. The team's spirt shone through yet again where they played into a strong wind in the second half to outplay St. Paul's  and win the match. Unfortunately, we left it all on the pitch in the semi-final and could not continue our form in the final, and were beaten by an excellent Gort na Mona team. The squad should be very proud of their efforts and dedication this year. Some of the commitment and dedication were second to none. To be within touching distance of silverware should be a good motivator for 2021.

Ladies' Senior Player of the Year.
Congratulations to Natasha O'Neill who was voted Glenavy Senior Ladies' Player of the Year 2020. Natasha is a truly modern attacking wing half back who is equally as comfortable in possession of the ball as well as being a tight marking fully committed defender.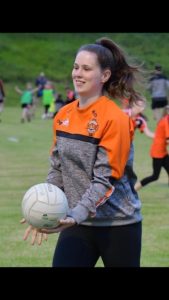 Having played every minute of the season at right half back, she is a calming influence on those around her who know she will always be available for a pass or kickout from defence. When in receipt of the ball she has the ability to solo and maintain possession for as long as necessary until the right pass is on.
Throughout the year she was an example to the rest of the team by not only being a continual presence at training but has also worked hard on her own fitness outside of club time.
Congratulations and well deserved.
Players' Player of the Year
Congratulations also to Gráinne McLaughlin on receiving the Players' Player award. This was voted for by her peers and is just reward for her consistency ever since she started playing senior a few years ago. Again, like Natasha, Gráinne is a fantastic role model to other players, strong on the ball, a 'never say die' work ethic and a fantastic left boot. Gráinne also represents Queens' ladies and Antrim and has many years of playing at the top level ahead of her.
Conclusion
It was a stop-start year due to Covid, but everyone is glad that some football was eventually able to be played. We would like to recognise the effort that the team has put into training and playing this year and thank them for their hard work and commitment. Hopefully we can get back to normal next year.
A special mention also goes to Megan McGarry, Grainne McLaughlin and Ellen Morgan who represented the Club on the Antrim Senior panel this year. They missed out on an All Ireland final place being beaten by a strong Wicklow side in the semi final. Special congratulations also to Ana Mulholland and Orlaith McAllister who also represented our county at Under 16 and 18 level.